---
Are you planning to start working from home these days? Well, planning for a home office is not an easy decision to take, after all, it includes several domestic distractions that may hinder your work or you may even fear the fact that home office may not appear as smart and professional to your clients and guests due to which they might not take you seriously. In addition to this, it's not just you are your family that needs to make certain arrangements, even your house has to go through changes to accommodate you and your work. The following post acts as a short guide that will assist you in creating an enticing space right from the start to finish- of course, in such a way that nothing disturbs the home equilibrium too much.
But before you start, you must workout upon these questions
What type of work you will be doing in the office space?
What type of electrical equipment will you need?
How much storage space will you require?
How many hours per day will you spend in this area?
Answering these basic questions will give you an accurate blueprint of your home office, i.e. how big will be the space and what needs to be included in the office area?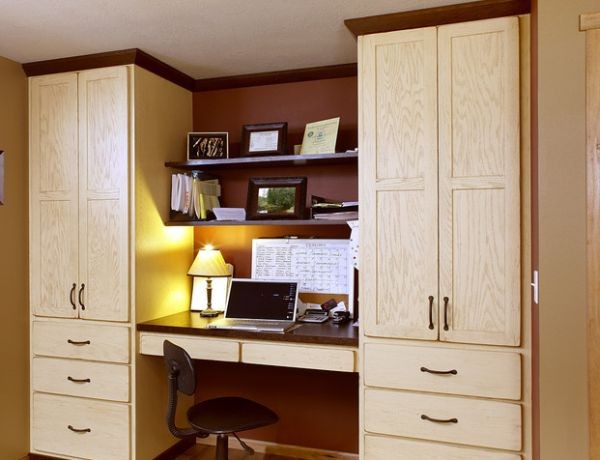 Find the spot?
It's great if you consider an entire different room for your home office but if it's not then choosing a high-end office workstation furniture which can easily coexist with other areas is the best alternative. Do a detailed recce, find a nook that can easily fit as your office space. Also, consider the situation, I mean do you wish to get completely isolated or are you pretty much okay with supervising your maid and other basic chores. Choose the environment right according to your needs.
Time to Plan
Working at home is way different from working in your office cubicle and trust me, it tends to give you far more flexibility and allows you to get a lot more comfortable. Down below I would like to provide you certain home office ideas for those who wish to create a decently organized workspace featuring form and function in a limited area. I am pretty sure these uncanny pots and multitasking décor will surprise you!
Smart décor that can save up on space
Do you what is the most essential things to remember while planning for small home office? It is to buy décor, furnishings, desks, and cabinets that do not occupy much leg space. After all, the space you are having at hand is already limited and the best way to maximize its usability is by designing as smartly as possible. For example, choose a desk that can simply fold away towards the wall especially when not required or consider floating shelves, wall-mounted cabinets to organize things appropriately.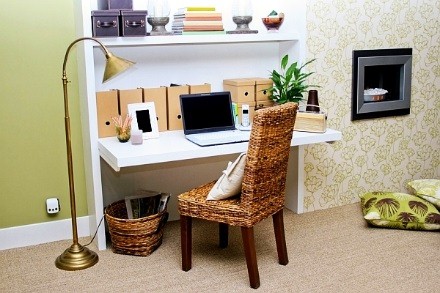 Consider the forgotten corner!
Small home office units and workstations can be easily accommodated anywhere as there is no one-fit-for-all solution. Thus, it's time to consider those neglected corners, or substantial space that you have left underutilized as room under the stairs, stairway landing space, a small attic and at times even a large empty wardrobe can be transformed into a beautiful workspace.
Now, prepare an accessory list
Try making a checklist of all equipments and office accessories required. Do you really need a desktop or is laptop enough for you? Is it okay if you don't have a phone line? I mean if the space available isn't enough to include all the gadgets then you may require, re-thinking in terms of adjustment.
Besides, no office can function without the internet. So kindly figure out for your home Wi-Fi is fast enough for your work or you may plan a spot for your router nearby as adding too many wires can make space messy, so think of some smart way to hide the messy cables.
Storage space
The first and foremost rule for organizing any room is having a full proof plan to address the storage space. Of course, you always have a choice to go with the standard one, i.e. built-in desk and cabinets but try being a bit more creative it might work wonders for you. And you know what, this can bring in the aesthetic value too.
Last but certainly not the least, don't forget to give a personal touch.